With heatwaves destroying crops in Libya and Jordan, farmers and refugees are finding hope in a popular new farming technique.
In Ubari, an oasis town a thousand kilometres south of Tripoli in Libya, the summer heat can be lethal. Temperatures now frequently top 50 degrees Celsius – so hot that schools and offices are shut for public safety.
For 35-year-old Ubari farmer Khalifa Muhammad, the extreme heat is a matter of life and death for something else: his fruits and vegetables. "Over the past five years, high temperatures have badly affected our harvest," says Muhammad.
Libya is one of the most vulnerable countries in the world to climate change. The North African nation has been hit by longer periods of drought, increased sandstorms, higher evaporation rates and worsening desertification. Together these extremes are causing unprecedented crop failure, undermining Libya's food security.
To grow food in such harsh conditions, Libyan farmers like Muhammad are turning to hydroponic farming: a method that cultivates crops directly in water, rather than soil, and from inside temperature-controlled tents.
"It's helped us produce healthy vegetables. They grow faster, have purer colours, and taste better than the ones grown by traditional methods. Hydroponics has been a godsend after years of failed crops," Muhammad says, while inspecting some 900 seedlings he has grown in his plastic hydroponic tent.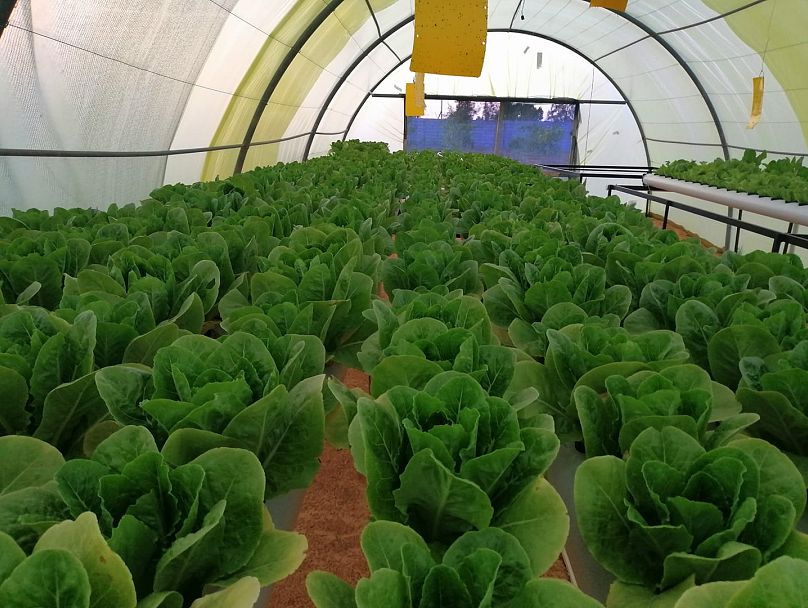 Farmers in Jordan are turning to hydroponics too
Miles away, in Jordan's capital of Amman, 48-year-old Najwa al-Qadi boasts tomatoes and red lettuce she cultivated on the rooftop of her house.
"The crops I grow in my hydroponic tent help me chip into the expenses of my children's higher education," says the mother-of-five and grandmother-of-two. She makes around €130 every month from her plants.
Like Libya, Jordan is one of 15 countries in the Middle East that are among the world's 25 most water-stressed spots. Populations in these countries use up the entire available water supply, and farming is one sector badly hit by the scarcity of water.
In such desert settings, hydroponics makes a lot of sense. According to Amman-based farming consultant Alaa Obeidat, "the targeted irrigation in this method of farming uses between 28 and 60 times less water than with traditional farming, since the water is captured and reused."
How does hydroponics work?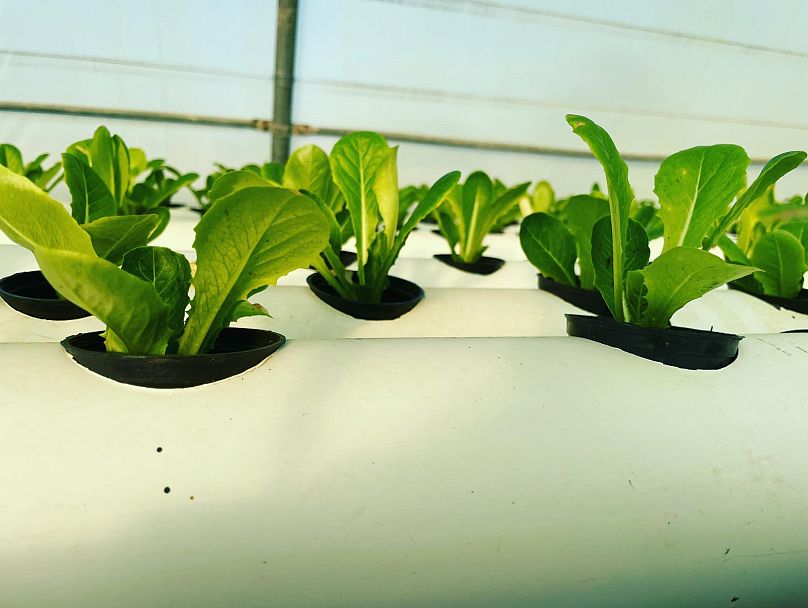 Given its reduced need for water, hydroponic farming needs no arable lands, explains Abdallah Tawfic, Cairo-based co-founder of Urban Greens Egypt. "The plants are elevated from the ground and are grown in special substrates, while getting the nutrients in a liquid form," he notes.
This makes such a method of planting ideal for Libya, where about 95 per cent of the country is desert and less than two per cent of its land gets enough rain to support traditional agriculture. With no natural rivers, nearly all fresh water for irrigation is sourced from underground aquifers.
In 2020 and 2021, Libya experienced longer than usual heatwaves and lower than normal rainfall. This completely dried up Wadi Kaam, a 30 million cubic metre dam that is one of Libya's biggest, along with several other dams across southern and western Libya.
UNICEF warned in 2021 that more than 4 million Libyans faced imminent water shortages – more than half of the country's roughly 7 million people.
To help Libya's hard-hit farmers grow crops in such a punishing environment, in 2020 Seraj Bisheya and Mounier Banot launched Green Paradise, an NGO that trains farmers on hydroponic techniques and equips them with water-saving systems.
The NGO has trained over 120 farmers like Muhammed, in some of the warmest cities in Libya including Sabha, Ghat, Owainat, Wadi Ataba and Ubari, helping them build climate-resilient farms.
Hydroponics has enabled me to cultivate crops that would have been unthinkable because of the heat, like tomatoes, cucumbers and zucchini.
Khaled Ibrahim, another farmer in Ubari, sought Green Paradise's help in 2022 after a season he described as "the worst in memory". Ibrahim said he, and many other farmers in the area, lost about half their crops in 2020-2021 due to the extended dry spell and sky-high temperatures.
"Hydroponics has enabled me to cultivate crops that would have been unthinkable because of the heat, like tomatoes, cucumbers and zucchini," says Ibrahim. "Their consistent size, shape and taste have also made them popular with local consumers."
A lifeline for refugees
In Jordan, farmers are finding it harder to sustain a living, battling with a combination of severe water shortages and shrinking arable land.
According to the World Bank, there is only 97 cubic metres of water available per capita per year, significantly lower than the absolute water scarcity threshold of 500 m3 per capita per year. This meagre water supply has been overstretched over the past decade by population growth and an influx of refugees. Some parts of Jordan get access to water once every week or two weeks.
For many refugees, who make up a third of Jordan's population of roughly 11 million people, agriculture remains their only option for an income.
Living in one of the most impoverished and crammed refugee camps in Jordan, and unable to find a job with his nursing degree due to his visa status, Palestinian refugee Mohammad Syam learned of hydroponic farming from another camp resident. Educating himself via YouTube videos, he then launched Senara in 2020, a company that trains refugees on hydroponic farming.
Al-Qadi is one of 49 refugees Syam has trained to operate hydroponic gardens. Senara also trained 34 refugees on how to build the systems, and helped install 164 rooftop systems, most of which are in crowded refugee camps where traditional farming methods would have been impossible.
45-year-old Subhi Shehab, a Syrian refugee and father of six children, was unable to keep a job due to health impediments. Receiving training from an international organisation on hydroponics, he has been able to grow bell peppers and tomatoes, making €913 over the past four months.
Is hydroponic farming too expensive?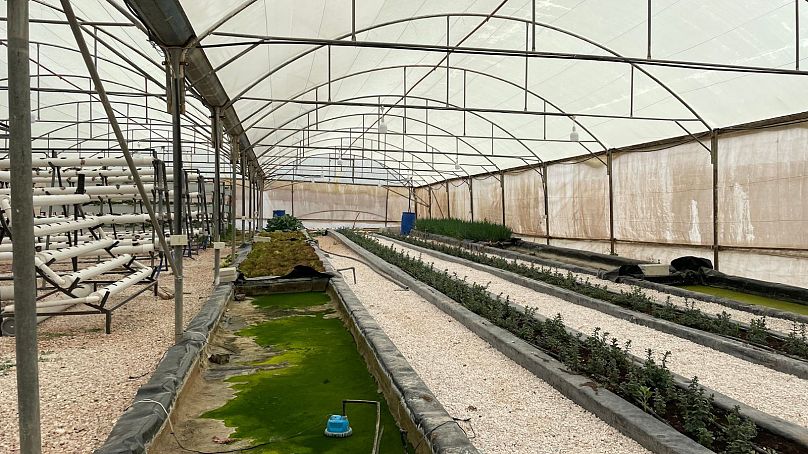 Though grateful for their hydroponic tents, the farmers noted that high upfront costs is the main challenge for getting into this kind of farming.
To build a single plastic tent like Muhammad's, it costs around 7,000 Libyan dinars (around €1,344). That's because many of the components are imported, and the tents require refrigerants to keep the plants and water cool enough to thrive.
"The refrigerants that have to be added to the hydroponic houses in southern Libya cost a lot of money, since the temperature is so high," said Green Paradise's Bisheya.
Al-Qadi, unable to afford a refrigerant, fitted her tent with a grant-funded fan to control its temperature, but said it is limited in impact.
Because of the relatively high cost, the systems are largely dependent on grants from international organisations like the United Nations Development Program, World Food Programme and others.
Steep initial expenses and lack of awareness and education are among the factors which Tawfic says are hindering the spread of hydroponics as a "relatively new technique in the MENA [Middle East and North Africa] region".
A lack of legislation guiding and regulating this practice also leaves farmers exposed to unprofessional service providers, he adds.
Despite such odds, hydroponics is still gaining popularity in the region.
Source : Euronews.green