Memorable trips in France, Sri Lanka, Canada and more underline just how superior the train is to taking a plane
Until the late 1960s a railway station had the kind of allure now only found on film sets: clouds of mysterious steam curling around dark scurrying figures in hats, blackened faces, uniforms, loud blasts on whistles, doors slamming, and then a dramatic pause followed by the deep, urgent grunt of the monster itself. The smell, noise and power were overwhelming. As a toddler I was held up to see the most famous giants, The Flying Scotsman or the speed record holder, Mallard, and can still remember the feeling of awe.
"Your grandfather was a stationmaster," I would be told, "And your great-grandfather drove a stagecoach." Railways and travel, they were saying, are in the blood.
I once borrowed someone's documents to cross into Djibouti from Ethiopia, but I've never been thrown off or arrested
There has never ever been any question about it for me. Rail travel is the best. From the grimy monsters of childhood to the super-slick, air-conditioned, high-speed services of today, I love them all. In Sudan, I rode on a carriage roof for three days from Khartoum to Wau with a gang of spear-wielding Dinka youths. In Shanghai, I caught the breathtaking bullet train. In Germany, I've eaten extraordinary food several times – and been robbed. I once borrowed someone else's documents to get across a border, into Djibouti from Ethiopia, but I've never been thrown off or arrested.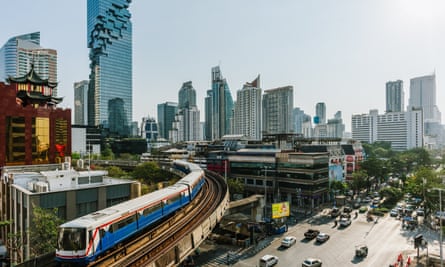 Trains are better than planes: there is always something to see out of the window – a black bear once in Canada. They outshine cars because you can stroll around and meet people. I love the conversations with restaurant car attendants late at night, such as the Afghan who described cycling through Russia, then dumping the bike at the Norwegian border and running for his life. They are superior to boats because the rocking motion induces only sleep.
Trains are better than planes: there is always something to see out of the window – a black bear once in Canada
I don't dislike countries without them – some of my favourite places have no trains (Yemen, Papua New Guinea and Iceland among them) – but they do add allure. The views from Sri Lankan commuter trains. The entertainment in an Indian third-class carriage: circus performers who slide their bodies through improbably tiny hoops, the beggars who sing their hearts out, and all the snacks, chatter and newspapers. I love the quiet at night-stops when a few insomniacs step off for a cigarette. On the Darjeeling Himalayan railway in West Bengal I travelled with enthusiastic botanists. Whenever the century-old steam locomotive took a rest, which was often, they would gleefully leap off to collect specimens in the jungle, returning with pollen-dusted noses.
While there is no need to go so far to find magical moments, you can make it to Istanbul, Tbilisi and Narvik by train. Closer to the UK, France has some classics: the route of the pine cones, Les Pignes, goes from Nice to Dignes-les-Bains and is stunning. The Bernina Express from St Moritz, Switzerland, to Tirano, Italy, is a classic, but I particularly like the Innsbruck to Bolzano route with its chilly stop at the Brenner Pass, a place redolent of old central Europe.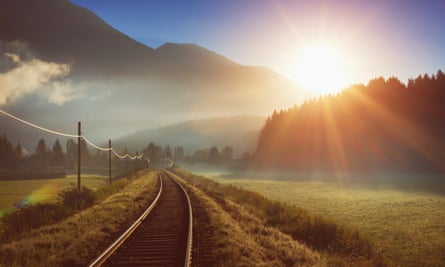 The stations of Europe can be as big an attraction as the lines – Amsterdam has a memorable set of waiting rooms – but farther afield there are some iconic buildings. Kuala Lumpur's Sentral station, an Indo-Saracenic triumph, is said to have had an original roof strong enough to hold three feet of snow, thanks to colonial planners.
The UK has lots of lines that can jolt us from complacency and renew an appreciation of rail travel: the Heart of Wales, the Exeter to Plymouth line, Glasgow to Mallaig, even the east coast mainline when you suddenly burst on a vista of the North Sea and gaze down on the little port at Alnmouth, tucked on a tonsil of land in the River Aln. It is the unfolding of a landscape, the slow and sudden changes, the glimpses of wildlife and then the swift surgical thrust into the city's underbelly of yards, windows, graffiti and archways. Going by rail into Leeds or Manchester is like taking a time machine back through the Industrial Revolution.
In a climate emergency it is right to embrace the magic of railways once again and stop what has become the unthinking automatic reflex of choosing air travel.
Source : The Guardian