According to a report by Iran's Tasnim News Agency on the 20th, Iranian Intelligence Minister Ismail Khatib revealed on the same day that Iran has arrested many spies from countries such as Sweden, France and the United Kingdom, and some of them have been executed.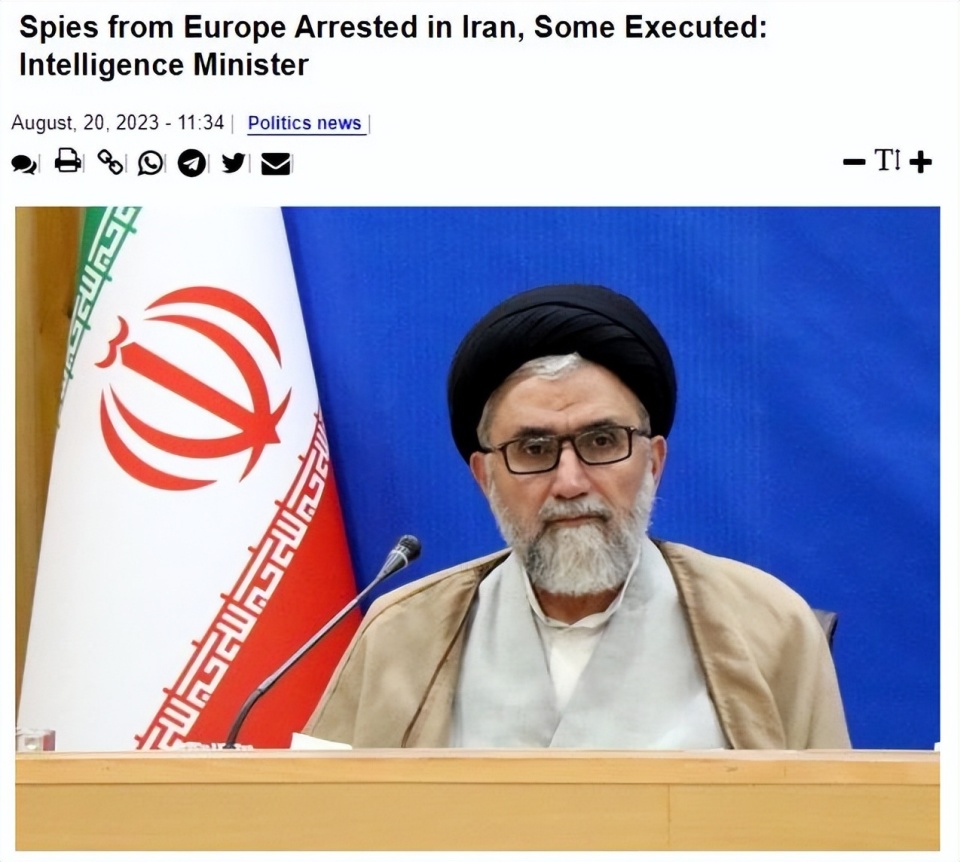 Screenshot of Iran's Tasnim News Agency report
On August 20, local time, Khatib said at the annual meeting of the commanders of the Islamic Revolutionary Guard Corps (IRGC) of Iran, "Nowadays, the power of the national intelligence agency is so powerful that they have captured people from France, Sweden, the United Kingdom and others. spies of several countries." He added that despite pressure from foreign countries, some of these spies were sentenced to death and had already been executed. Khatib emphasized that Iran's success in capturing spies was due to the coordination and cooperation among intelligence agencies.
According to reports, Khatib also accused the United States of creating the "Islamic State" (ISIS) extremist organization in his speech, and said that after about 200 members of the organization entered Iran, the Iranian government recently foiled many plots. He also said that these extremists entered Iran to cause trouble and instability in the country, the region and neighboring Iraq.
The report mentioned that the Iranian Ministry of Intelligence previously issued a statement on the 18th stating that the department worked closely with the intelligence organization of the Islamic Revolutionary Guard Corps, the police and the judiciary to arrest suspects involved in the August 13 attack on the city of Shiraz, Fars Province, Iran. Many people involved in the "Tomb of the Lantern King" terrorist attack. According to reports, two people were killed and eight were injured in the attack.
The statement also said that a key figure who provided logistical support for the terrorist attack has been arrested. This person is in Iran and is responsible for direct contact with the leader of the "Islamic State" operation in Syria and Afghanistan.
According to reports, the "Tomb of the Lantern King" in Shiraz, the capital of Iran's Fars Province, was also attacked by similar armed forces last year. The shooting incident on October 26, 2022 killed 15 people, including women and children, and injured dozens of others. Subsequently, the "Islamic State" extremist organization claimed responsibility for the terrorist attack.
According to reports, the "Tomb of the Lamp King" is a tomb and mosque, which is a famous tourist attraction. According to local tradition, many people visit the site at night to worship.
Source : view.inews.qq.com